While talking about the rich bio-diversity of Uttarakhand, we cannot miss out the beauty of the myriad, playful birds that attracts many globetrotters to visit Uttarakhand and capture their beauty in the eye of the camera. So let's celebrate the International Migratory Birds Day (held on every second Saturday of May) in a unique style and give a moment of thanks to the colourful birds which have made Uttarakhand truly a "Bird Watchers Paradise".
Garhwal
Click Here to See Bird Watching Places of Kumaon
Birding Area Name– Agora-Barsu-Dayara (Asi Ganga Valley, Dodital, Dayara Bugyal)
Location: Agora-Barsu-Dayara (District Uttarkashi)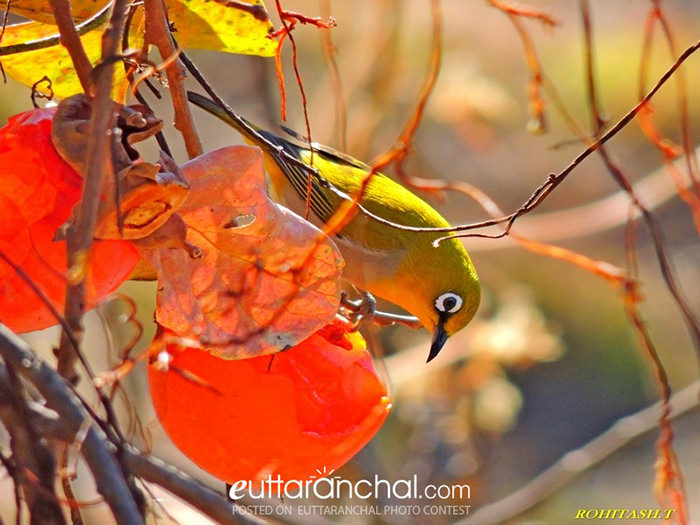 Known for its snow-clad peaks, meandering meadows and dense woods the Agora-Barsu-Dayara circuit is blessed with more than 200 varieties of Himalayan birds that have chosen this celestial place as their home. This birding destination is nestled in the Western Himalayan region precisely in the Bhatwari tehsil of Uttarkashi district. The backpackers can also have a taste of the pristine Dodital Lake and Dayara Bugyal that are located here.
Birds Specialities: Cheer, Monal and Koklass Pheasants, Cinereous Vulture, Bearded Vulture, Egyptian Vulture, Snow Pigeon, Brown Wood Owl, Scaly-beasted wren Babbler, Golden Bush Robin, Beautiful Rosefinch
Birding Area Name– Asan Conservation Reserve and Timli Reserve Forest
Location: Asan-Timli (Dehradun)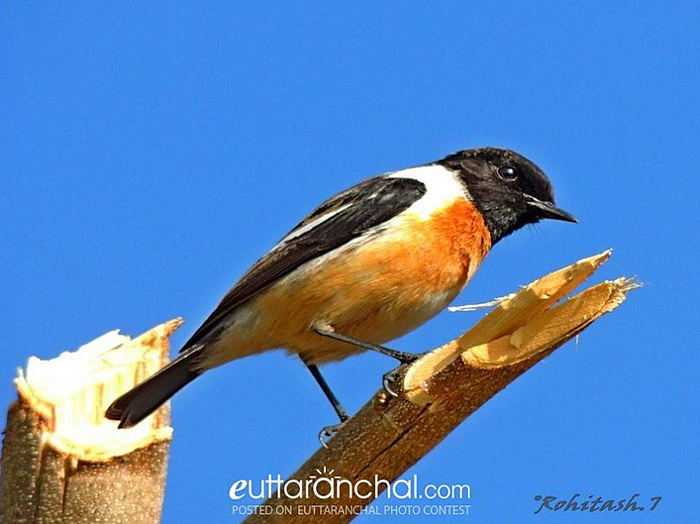 Offering the ravishing views of the migratory birds that flock in huge numbers to this surreal place, the Asan Conservation Reserve of Dehradun district is India's first conservation reserve established in 2005. The reserve sprawls over an area of 4.44 sq. km and is idyllically situated at the confluence of the Asan and Yamuna rivers. It stretches at Asan and Timli Reserve Forest about 12 km from Asan. With more than 255 species of birds, this wetland is listed as an Important Bird Area by BirdLife International and is one of the favourite spots of the migratory birds.
Bird Specialities: Great Crested Grebe, Great Bittern, Common Goldeneye. Baer's Pochard, Red-crested Pochard, Ferruginous Pochard, Marbled Teal, Lesser white-fronted Goose, Painted Stork, Pallas' Fish Eagle, Stork-billed Kingfisher, White-tailed Rubythroat, White-crowned Penduline Tit.
Birding Area Name- Chakrata-Koti Kanasar
Location: Chakrata-Koti Kanasar (Dehradun)
These remote hill stations seated in the upper reaches of the Dehradun district that are not so popular amongst the tourists but have made a special place in the hearts of the tiny, winged Himalayan inhabitants. This scarcely populated place is bound by Mussoorie on the east and Kinnaur on the west and can be easily approachable.
Bird Specialities: Chukar Partridge, Cinereous Vulture, Speckled Piculet, Himalayan Woodpecker, Wallcreeper, Bar-tailed Treecreeper, Spotted Nutcracker, Black and Yellow Grosbeak, Brown Bullfinch, White- checked Nuthatch.
Birding Area Name- Chilla and surrounds in Rajaji National Park
Location: Chilla-Rajaji (Dehradun and Pauri Garhwal)
Cradled in the Shivaliks, the Rajaji National Park covering a vast expanse of 1075 sq. km is outlined with mixed tropical deciduous forests. The Shivaliks are also important breeding grounds for endangered bird species such as Great Hornbill, Pallas Fish Eagle, River Lapwing ad Vulture species. The Rajaji harbours about 311 myriad bird species such as ducks and flycatchers descending into the Shivalik during winter. This national park is listed as an important Bird Area by BNHS and BirdLife International.
Bird Specialities: Black Stork, White-eyed Buzzard, Cinereous Vulture, Pallas Fish Eagle, River Lapwing, Great Slaty Woodpecker, Great Hornbill, Oriental Pied Hornbill, Wallcreeper.
Birding Area Name- Thano-Maldevta-Lachhiwala near Dehradun
Location: Thano-Maldevta-Lachhiwala (Dehradun)
The lavish vistas of Doon Valley have lured the playful birds to make their abode in the green patches, mainly in the scrub forests, riverine jungle, agricultural fields and the orchards. A wide variety of birds can be spotted in the eastern part of Doon Valley which is bounded by Sal mixed forests of the Shivaliks.
Bird Specialities: Wedge-tailed Green Pigeon, Greater Yellownape, Great Slaty Woodpecker, Crested Kingfisher, Indian Pitta, Sirkeer Malkoha, Maroon Oriole, Orange-bellied Leafbird, Wallcreeper, Red Avadavat, rock Bunting, Green-Tailed Sunbird, European Goldfinch.
Birding Area Name– Deolsari-Magra in Aglar Valley Birding
Location: Deolsari-Magra (Tehri Garhwal)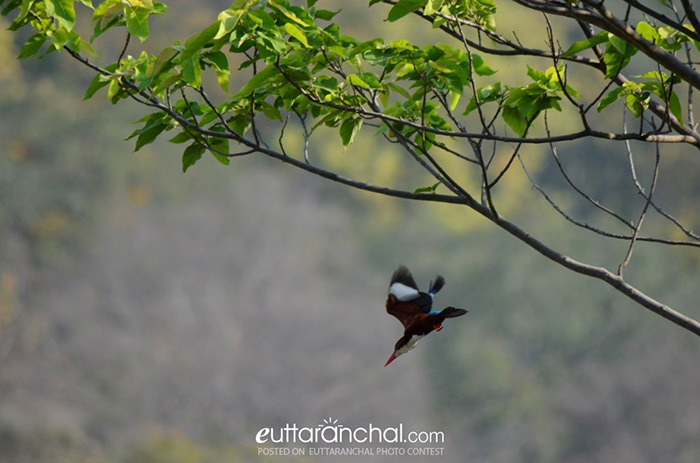 The picturesque Aglar Valley located in the lower Himalayas of Tehri Garhwal district boasts some of the eye captivating views of the sun-kissed peaks and the bubbling creeks, bordered by the broad-leaved forests. The Aglar River that drains into the holy river Yamuna surpasses through this valley. The vivid flora-fauna, agricultural fields at Suwakholi and Rauto ki Bela, deodar forest at Deolsari and the kaleidoscopic landscape makes this place a perfect place for birding.
Bird Specialities: Cinereous vulture, Chukar Partridge, Mountain Scops Owl, Rufous-chinned Laughingthrush, Black-Faced Warbler, Golden Bush Robin, Spot-winged Grosbeak, Mrs. Gould's Sunbird, Fire-breasted Flowerpecker, Fire-fronted Serin, Altai and Alpine Accentor.
Birding Area Name– Govind Pashu Vihar: Har-ki-dun-Changsil-Runsara (Uttarkashi)
Location: Har-ki-dun, Changsil, Ruinsara Taal treks in Govind Pashu Vihar National Park
This national park is perched at a mid-to-high-altitude Himalayan region in the Garhwal Himalayas, sprawling over an area of 958 sq. km. This area is also the catchment of Tons River and is also a protected area. More than 148 species of colourful birds have been recorded in this area that makes it an ideal place for birding.
Bird Specialities: Rufous-throated Partridge, Himalayan Snowcock, Western Tragopan, cheer Pheasant, Snow Pigeon, Green Shrike-Babbler, Pied and Long-billed Thrush, White-throated Tit, Robin Accentor, Allied Grosbeak, Red-fronted Rosefinch.
Birding Area Name- Khirsu Bird Watching
Location: Khirsu (Pauri Garhwal)
Only 17 km from Pauri, the district headquarters this relatively unexplored tourist destination is easily accessible. Myriad tiny birds have chosen the peaceful aura of the beguiling hills of Khirsu as their safe haven. One can soak in the beauty of the snowy peaks of Phurkunda that sparkles even in the dark as if the mother earth has decorated her heavenly abode with a natural chandelier.
Bird Specialities: Black Francolin, Koklass Pheasant, Speckled Piculet, Rufous-bellied Woodpecker, Grey-winged Blackbird, Little Forktail, Yellow-browed Tit, Fire-Breasted Flowerpecker, Yellow-breasted Greenfinch.
Birding Area Name- Benog-Suwakholi-Dhanaulti near Mussoorie
Location: Mussoorie: Benog-Suwakholi-Dhanaulti (Dehradun, Tehri Garhwal)
A wide variety of songbirds can be spotted in the alpine hills of Mussoorie, forming the northern boundary of Doon Valley. The mountain range runs from the east to west axis and its northern side falls away into the Aglar Valley. The spellbinding views of the snow-capped peaks of western Garhwal region and the scent of the scarlet rhododendrons can be relished here. It is one of the best places to watch the activities of the birds as this area has been listed as an Important Bird Area by BNHS and BirdLife International.
Bird specialities: Lammergeier, Mountain Scops Owl, Rufous-bellied Woodpecker, Long-tailed Broadbill, Black-faced Warbler, Himalayan Blue-tall, Blue-fronted Redstart, Upland Pipit, Pink-browed Rosefinch, Spectacled Finch, Spot-winged Grosbeak, Fire-fronted Serin, Mrs. Gould's Sunbird, Alpine Accentor.