10 Easy Treks in Uttarakhand for the Nature Lovers
Uttarakhand is blessed with ethereal beauty, you'll find little dew drops of nature scattered lavishly in this celestial Himalayan state. There are numerous hiking trails in Uttarakhand featuring some of the most beautiful gifts of nature that are graciously bestowed upon us. One of the best things is that adventure comes handy in Uttarakhand as you don't need to spend much. If you want to have an escapade in the mytical hills of Uttarakhand and rejuvenate your senses amidst the natural flora-fauna then just check out these 10 easy treks in Uttarakhand that are a must do for the nature lovers.
Situated in the Rudraprayag district of Uttarakhand, the Chopta-Chandrshila trek is an easy gradient of 5 km. This trek starts from Rudraprayag offering eye-pleasing views of the hills covered with nature's abundance. While hiking to the summit you can relish the spectacular views of the Himalayan peaks such as Nanda Devi, Trishul, Kedarnath, Banderpunch and Chaukhamba peaks. It is advised to start this trek early morning from Chopta to Tungnath seated at 3,680 metres which are the highest Shiva Temple in the world. This 1,000 years old temple is one of the Panch Kedars and is cradled in the arms of the Chandrashila peak. An easy one hour trek from here terminates atop the Chandrashila summit from where you can savour the views of the kaleidoscopic mountain ranges, virgin valleys, and deep gorges.
Best Season: September to November
Route: Delhi > Haridwar > Devprayag > Rudraprayag > Ukhimath > Chopta > Tungnath > Chandrashila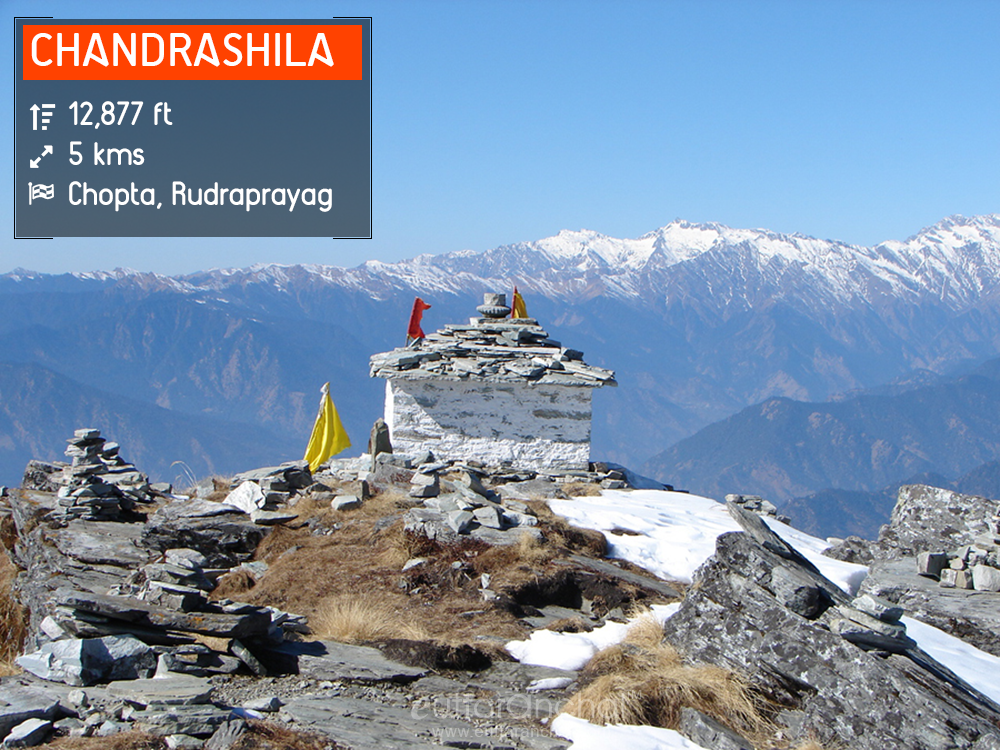 2. Nag Tibba Trek
Perched at an altitude of 9,900 feet, Nag Tibba also referred to as Serpent's Peak is the highest peak in the lower Himalayas of Garhwal region. This 8 km trek starts from Pantwari and is one of the best places for hiking in Tehri Garhwal district. The highlights of this trek are the spellbinding views of the Banderpunch peaks, the Gangotri group of peaks, Kedarnath peaks in the north, Doon Valley and the snow-clad Chanabang peak.
Best Season: October to April
Route: Delhi > Dehradun > Chandrashila > Mussoorie > Devalsari Village > Pantwari Village
3. Deoriatal Trek
Adorned like a precious gem in the Rudraprayag district, the Devariyatal at 8,000 feet is a ravishing lake near Chopta. This Himalayan beauty allures the backpackers from all around the world to go on a nature quest. The 3 km uphill Devariyatal trek starts from Sari village offers majestic views of the massifs such as Chaukhamba, Nilkantha, Bandarpunch, Kedar Range and Kalanag.
Best Season: March to June
Route: Delhi > Haridwar > Rishikesh > Devprayag > Srinagar > Rudraprayag >Ukhimath > Sari village> Devariya Tal
4. Dayara Bugyal
Nestled in the Uttarkashi district, Dayara Bugyal is one of the most beautiful meadows in the world that sprawls over 28km squares. This gorgeous meadow is perched at an impressive altitude of 10,000 feet above sea level and receives snowfall during winters. This 9 km trek starts from the picturesque Barsu (Raithal village is also the base camp for Dayara Bugyal) and is suitable for the beginners.
Best Season: May to July, August end to Mid October and from December to February
Route: Delhi > Haridwar > Rishikesh > Chamba > Uttarkashi > Barsu/Raithal OR Dehradun > Suwakholi > Chilianisaur > Uttarkashi > Barsu/Raithal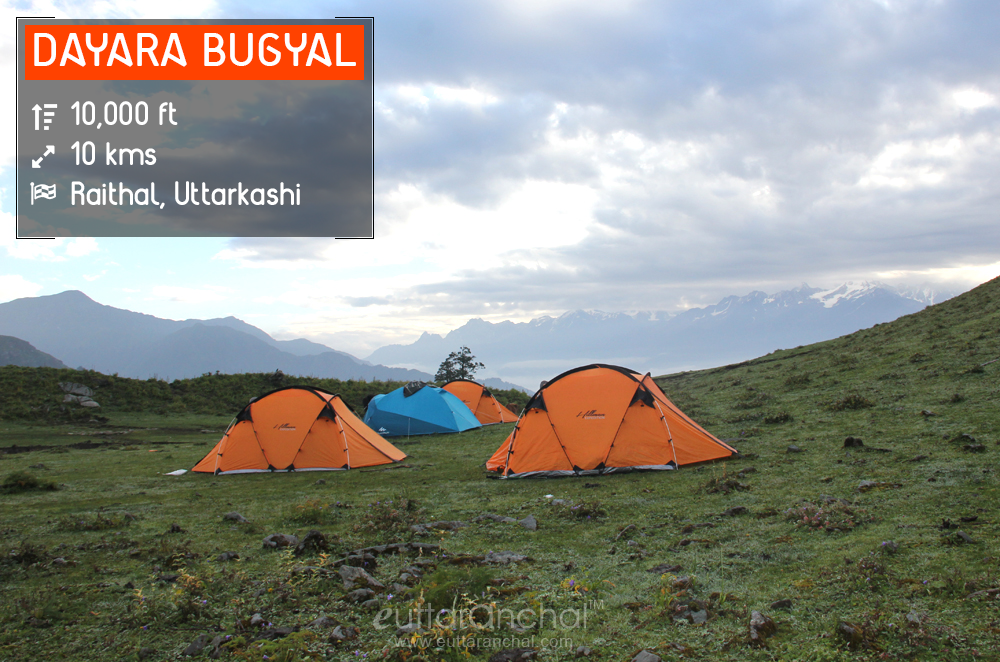 5. Panwali Kantha Trek
Situated at an astounding altitude of 11, 500 feet, the Panwali Kantha can be accessed from Sonprayag/Triyugi Narayan or from Ghuttu. This trek is an eye opener for those who haven't explored the ramparts of Tehri Garhwal. The perks of commencing Panwali Kantha trek is you can admire the bewitching landscape, smell the scent of the varied flowering herbs and the scarlet rhododendrons adorned like vermilion on the crown of the Himalayas that only blooms in the month of April-May. If you are lucky one, you may meet the high altitude animals like Bharal (blue sheep), Ghoral, Himalayan bears, weasels and rare musk deer at Panwali meadows so take your cameras along. The snow-shrouded peaks of Thalay Sagar, Meru, Kirti Stambh, Kedar Dome, Kedarnath, Chaukhambha, Nilkanth can also be seen during the trek.
Best Season: August to September
Route: Delhi > Rishikesh > Ghuttu or Delhi > Rishikesh >Sonprayag > Triyugi Narayan > Maggu Chatti > Panwali Kantha
6. Gorson Bugyal
Located in the undisturbed vistas of Chamoli, the meandering meadows of Gorson Bugyal is 10,000 feet above sea level. This 3 km trek starts from Auli and is dotted by thick forests of oak and pines. Gorson Bugyal receives snowfall in winters but without proper trekking gears and preparation, one must not do it.
Best Season: March to June
Route: Delhi > Haridwar > Rishikesh > Srinagar > Auli > Gorson Bugyal
7. Valley of Flowers
One of the most talked about and favourite treks of Uttarakhand, the Valley of Flowers is 17 km hike from Govindghat. This beauteous place proudly sits at an altitude of 12,000 feet above sea level in Chamoli district of Uttarakhand. The Valley of Flowers is a UNESCO world heritage site and is a protected area for the varied flora and fauna.
Best Season: July to September
Route: Delhi > Haridwar > Rishikesh > Srinagar > Gobindghat > Valley of Flowers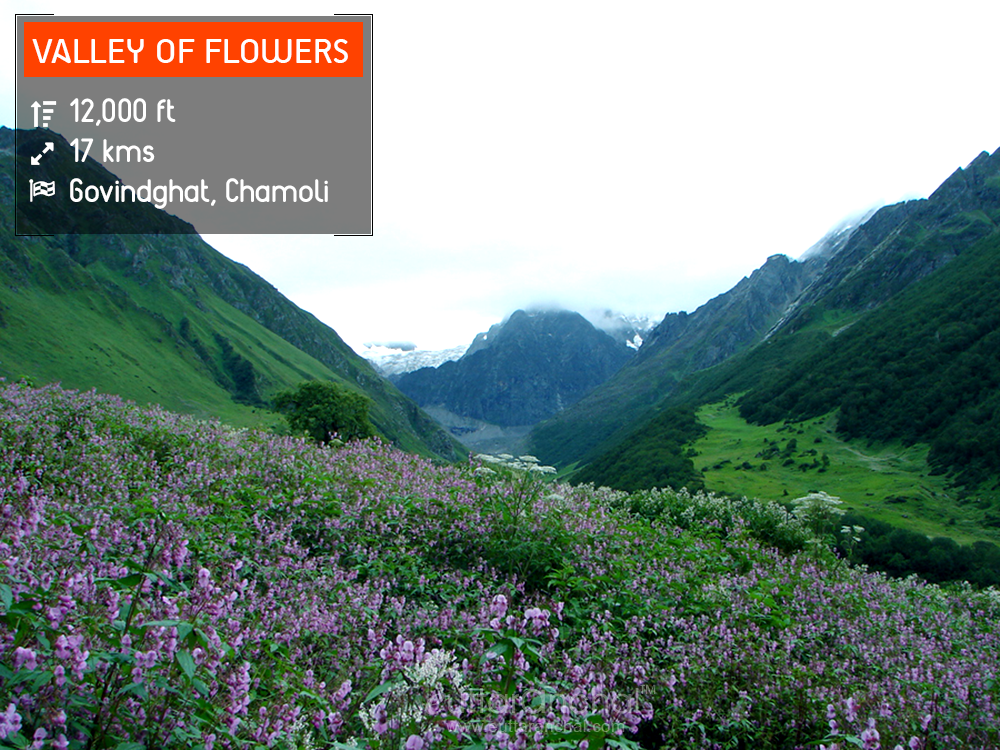 8. Kedarkantha Trek
Standing in utmost grandeur, the Kedarkantha Peak at 1,2500 feet is located at a favourable distance of 11 km from Rudraprayag. The trek starts from Sankri village and passes through Govind National Park. The trails are marked by tiny hamlets, lush green meadows and snow covered hills. On reaching the summit one can admire the breathtaking view of the three Himalayan beauties namely Swargarohini, Banderpooch, Black, and Ranglana peak.
Best Season: Round the year except monsoon.
Route: Delhi > Dehradun > Sankri vllage of Uttarkashi > Kedarkantha
9. Har-ki-Doon
Bedecked in the tempting environs of Doon Valley, the Har ki Doon at 11,700 feet is an ideal trek for the beginners. This naturally delightful valley is cocooned in the thick woodlands and is a 27 km hike from Taluka village.
Best Season: April to November
Route: Delhi > Dehradun > Mussoorie > Naugaon > Purola > Mori > Sankri > Taluka > Trekking (27kms) – Har ki Doon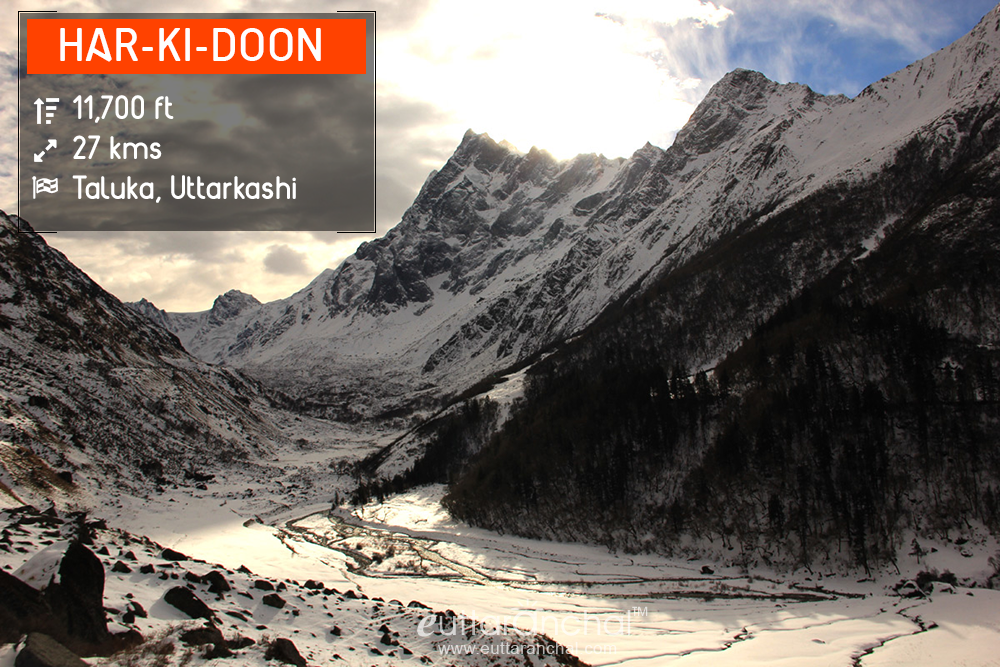 10. Kartik Swami
Kartik Swami is situated at an altitude of 10,000 feet in Rudraprayag district. The 3 km trek starts from Kanak Chauri offering splendid views of the snowy Himalayas and the playful birds that have chosen Kartik Swami as their heavenly abode.
Best Season: Round the year
Route: Delhi > Rishikesh > Devprayag > Srinagar > Rudraprayag >Kanakchauri