A tribute to martyrs
Uttarakhand state which is often celebrated for its magnificent natural beauty also never stayed behind in producing numerous gutsy warriors who have fought hard and shed their blood for the nation.
Unlike any other Indian state, Uttarakhand despite fewer population accommodates two regiments i.e. Kumaon regiment and Garhwal regiment that employ numerous brave hearts. More than five lakh soldiers from this hilly state are presently serving the Indian armed forces with a determination to fight till their last breath.
Thousands of native soldiers have contributed significantly in freedom fighting struggle and were enrolled and fought bravely in 'Aazad Hind Fauj' formed by Subash Chand Bose from 1943-45.
Moreover, 104 soldiers from Uttarakhand while fighting fiercely were martyred during Kargil war in May 1999 and made operation 'Vijay' a success.
By honouring few martyrs via this article, we are paying tribute to all the soldiers who are born here or in some ways associated with this sloping state.
Major Somnath Sharma
Major Somnath Sharma was born on 31 January 1923 at Dadh in the Kangra district of Himachal Pradesh. Commissioned on 22 February 1942 in the Kumaon Regiment he served as a Major in the Delta Company of 4th Kumaon regiment when the Pakistani invasion of Jammu and Kashmir began on October 22, 1947.
Under Incredibly courageous Major Somnath Sharma, 4th Kumaon Regiment had prevented the fall of Srinagar and arguably the Kashmir Valley.
Major Somnath Sharma fought till his last breath and was martyred in a mortar shell explosion.
For his boundless determination and raw courage in the face of the enemy, Sharma was posthumously awarded independent India's highest wartime gallantry award, Param Vir Chakra.
His citation read, "his leadership, gallantry and tenacious defence were such that his men were inspired to fight the enemy outnumbering them. Major Sharma set an example of courage and qualities seldom equaled in the history of the Indian Army."
Balbhadra Singh Negi

Balbhadra Singh Negi was born in 1829 in Pauri Garhwal and during those days there was no battalion of Garhwalis. He had to enroll in the Gurkha Battalions.
It was in Afghan War that his valour and intelligence was acclaimed by Commander Lord Roberts, as the latter faced many difficulties initially against the Afghans as they remained hidden in the rugged mountains. Whenever the British Army advanced, the Afghans surprised them by directing deadly volley of fire causing several casualties. In that critical situation Balbhadra Singh Negi found the tactics to defeat the Afghans and gained success. Lord Roberts remained forever enamored with Balbhadra's intelligence & capability. in 1878, he was awarded with 'order of merit'
The words used in the honour of him were, 'A region which can produce men like Balbhadra Singh Negi, must have a batallion of their own'
Hence the Garhwal regiment was established by the British.
Rajesh Singh Adhikari
Rajesh Singh Adhikari, brought up in Nainital, was an Indian Army officer who was martyred during the Kargil War. He was posthumously awarded the second highest Indian military honour, the Maha Vir Chakra for bravery on the battlefield.
His citation reads: On 30 May 1999, as a part of battalion operation to capture the Tololing feature, Major Rajesh Singh Adhikari was tasked to secure the initial foothold by capturing its forward spur where the enemy held a strong position. The enemy position was located in a treacherous mountainous terrain covered with snow at a height of about 15,000 feet. While Major Adhikari was leading his company towards the objective, he was fired at from two mutually supporting enemy positions with Universal machine guns. The officer immediately directed the rocket launcher detachment to engage the enemy position and killed two enemy soldiers in close quarter combat. Thereafter, the officer, displaying presence of mind under heavy fire, ordered his medium machine gun detachment to take position behind a rocky feature and engage the enemy. The assault party continued to inch their way up. While so advancing forward, Major Adhikari suffered grievous bullet injuries, yet he continued to direct his sub-unit. Refusing to be evacuated, then he charged at the second enemy position and killed one more occupant, thus capturing the second position at Tololing which later facilitated capture of Point 4590. However later he succumbed to his injuries.
Major Rajesh Singh Adhikari displayed exceptional valour, outstanding leadership in the presence of the enemy and laid down his life in the highest traditions of the Indian Army.
Gajender Singh
Citation of Gajendar Singh, "Born in a small village Ganesh Pur in Dehradun district of Uttarakhand, he joined the 51 SAG on 8 January 2008. On 27 November 2008 during OPS "Black Tornado" at about 1900 hours Gajender Singh slithered down on top of Nariman House in Mumbai to counter terrorists who had killed 06 foreign hostages and were firing at civilians indiscriminately.
Despite of effective fie of terrorist's fire at close quarters, Gajender Singh led his Squad for rescuing the hostages. He led his team with utmost courage and approached the room where terrorists were holed up with fire and move. At that point of time, a terrorist hurled a grenade at him in which he got injured grievously. Even then he was undeterred and crawled forward to make a forced entry into the room. Terrorists could not fire openly as Gajender had taken position beside the door. Realizing that, terrorists could pose danger to life of his comrades, Gajender Singh immediately charged inside, instantly killing one terrorist and injuring the other. On 28 November 2008, this gallant man succumbs to his injuries in the line of duty towards the nation. Gajender Singh who displayed conspicuous bravery, indomitable spirit of the highest order and made supreme sacrifice for the nation, was awarded with ASHOK CHAKRA (Posthumous). He is survived by wife Smt Vineeta Devi and son Gaurav Bisht and daughter Kumari Preeti."
Jashwant Singh Rawat
His citation read: On 17 November 1962, a Battalion of the Garhwal Rifles was occupying a defensive position near Nuranang bridge, in NEFA. Rifleman Jashwant Singh's company was subjected to a series of attacks by the Chinese forces. Three attacks made by enemy were unsuccessful, but the enemy managed to bring forward a medium machine gun (MMG) very close to one of our platoons and weakened its defenses. Rifleman Jashwant Singh Rawat and two other men volunteered to go and destroy the enemy MMG position. Under cover of boulders, scraggy bushes and trees and under the risk of their own as well as heavy enemy fire, they crawled forward and reached within 10-15 yard of target. While the Lance Naik undertook covering fire with his sten gun, Rifleman Jashwant Singh Rawat and the other rifleman hurled grenades on the enemy MMG. The grenades exploded and without losing time both of them rushed towards the MMG position. They saw two Chinese lying dead and another though badly wounded, still holding the MMG. They jumped on him and overpowered him. Rifleman Jashwant Singh Rawat snatched the MMG and both of them returned to their own position under the covering fire provided by Lance Naik. As they were entering their trenches, the enemy opened automatic fire from close range. Rifleman Jashwant singh rawat was hit on the head and died on the spot, still holding the MMG in his hand. The other rifleman, though badly wounded, managed to enter the trench and was saved.
The exceptional courage and initiative shown by rifleman Jashwant Singh Rawat in the face intense enemy fire were in the best traditions of our Army.
Jaikrit Singh Rawat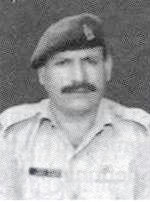 Citation of Jaikrit Singh Rawat, "On 13 Jun 2008, Jaikrit Singh Rawat deployed in 118 RCC responsible for construction of Road Kishtwar-Sinthan Pass to National Highway, accompanied the Officer Commanding 118 RCC for the road inspection of work and deployment of recources. After completion of road inspection, while returning their vehicle was ambushed by the militants who opened indiscriminate firing and injured him grievously. He succumbed to his injuries later.
Jaikrit Singh Rawat displayed courage determination and remarkable devotion to duty in difficult mountainous terrain highly infested with the terrorists and made the supreme sacrifice."
In recognition of this gallantry act he was awarded "SHAURYA CHAKRA" (Posthumously) on Republic Day 2009.