Clean up drive at Maral Village near Rishikesh
A usual Saturday morning at Maral Village मराल गॉंव, near Neelkanth, Rishikesh witnessed a ray of hope that the youth like Geeta and Vignesh will definitely bring a change!
A clean up drive was organized in Maral village, which saw participation from over 50 students of all age groups who combed through the village area and collected several bags of plastic waste from the village and surrounding areas. A couple of volunteers from Delhi (Zoya, Neelu & Sangeeta) also participated in the clean up drive and supported the campaign. Rajnish Payal was instrumental in mobilizing the locals and students for the drive. The collected waste was then handed over to Rishikesh Municipal Corporation vehicle for disposal. The students were encouraged to keep their village clean and conduct similar clean up drives in timely intervals.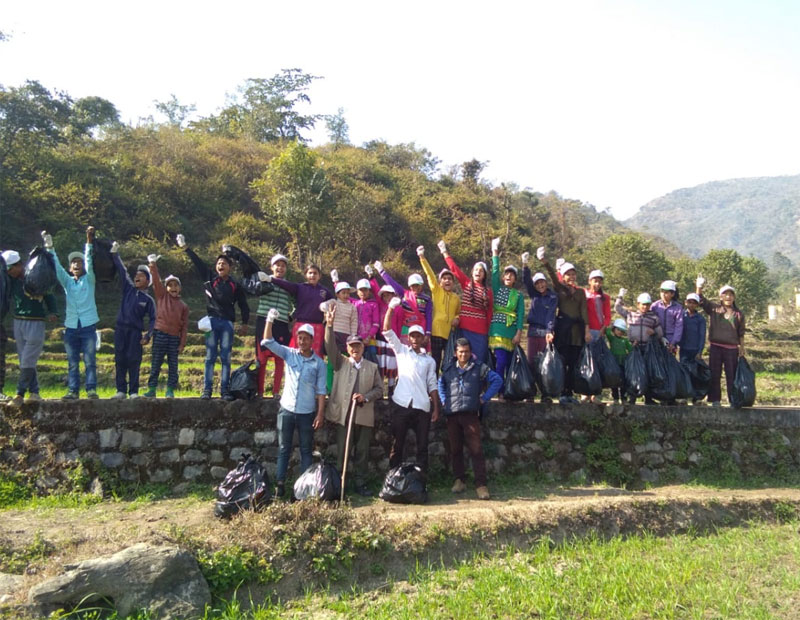 About Geeta and Vignesh
Geeta, a certified yoga teacher, hails from Maral village and lives in Delhi. Vignesh, her husband is an engineer and works in a MNC. They both have decided to revive their ancestral home and return to their roots in near future. They drive to their village every weekend (atleast 270kms) to set things in place. Geeta's father Mr Nardev Singh Payal, a retd commandant from BSF, is the main driving force who is also mobilizing the local villagers.
Geeta and Vignesh are an excellent example of trending reverse migration in Uttarakhand. Despite all odds, they are determined to returns to the hills and are putting hard efforts to make it happen.
You can also share stories about people who are making a difference. Email us at social@eutn.in.
Follow us at Facebook and Instagram for more similar stories.