Damn the Dams!
Devibhoomi turning Dambhoomi: Changing Development Narrative for Hills
As a five-year-old, I was climbing up a tree of Kafal, my favourite wild fruit. I had climbed enough to fetch stomach full kafal but still, I was hungry for more. I climbed to the top and began reaching to a fairly thin branch. My friends kept warning me but my entire focus was on kafal and a split second later the branch broke off and I fell down, eventually broke my leg. Henceforth I became cautious whenever I climbed a tree. A few years later, my father took us to the city. Everything was so new in the city. As curious I was, one day my innocent brain wanted to explore the genesis of electricity. I was playing with an electric switchboard while my father kept warning me against it. Eventually, I felt a horrible shock. My father came to me, gave a tight slap for ignoring his warnings. Thereafter I became more cautious towards electricity.
There are many other such lessons which I learned after series of such shocking practical exposures. Similarly, this is how most of us learned things in their lives. In retrospection, you credit your maturity to all those experiences. Basically, our cognitive capability differentiates human being with all other beings on the planet.
But there is a particular species of a human being which prefers to remain ignorant. Even though theypossess the same biology and physique of a human being, they prefer to suppress it. These are people who are in power, supposed to be representatives of our aspirations and often considered as smart are ironically the ones who demean this wonderful gift of a god called "brain".I believe you have probably guessed by this time about whom I am talking about. Right, our dear lawmakers of Uttarakhand or our political representative.
Since its formation, Uttarakhand's politics could never come out from the murky shadows of UP like politics. Instead of becoming a new voice for people of the hill, politiciansbecame opportunistic, dividing society into trivial matters of caste and religion. These politicians were ecstatic of having their own playing field where they could quench their thirst for power and money, and share it with their peers. But what followed their greed is haunting the existence of our beloved state and its heritage. The western fostered development narrative of Industrialisation led growth was immediately mimicked by these politicians which led tomass plundering and exploitation of resources, displacement of people who voted them and massive exodus of residents.
The most paramount concern of such ill-conceived fostered development narrative is building dams at every nook and corner. Everywhere around the state, wherever our beautiful river flowed joyfully, the government without any hesitation blocked its flow. I believe in years to come Uttarakhand would be more popularly known as the land of Dams than the abode of gods and goddesses. Whether it is Garhwal or Kumaon hills, the rivers are being blocked at every juncture.
Brief History of Dams
Due to its topographical advantages, the state accommodates a large number of rivers flowing directly from the Himalayas. Tehri Dam, one of the earliest dams was proposed in 1972. Due to inordinate delays, the dam took years to complete. The dam is often termed as a classic example of inadequate planning, lack of appreciation for the local population, regional environment and of course inadequate rehabilitation practices. In the aftermath, more than 1, 00,000 people and hundreds of villages were displaced, traumatized and left to cry in agony of loss to their motherland. Following this, we witnessed unprecedented cries of the people in the region after the Tehri Dam reservoir began to fill.There was so much hue cry by local residents, social activists and international agencies. But government turned blind and gave deaf ears to such display of sanity.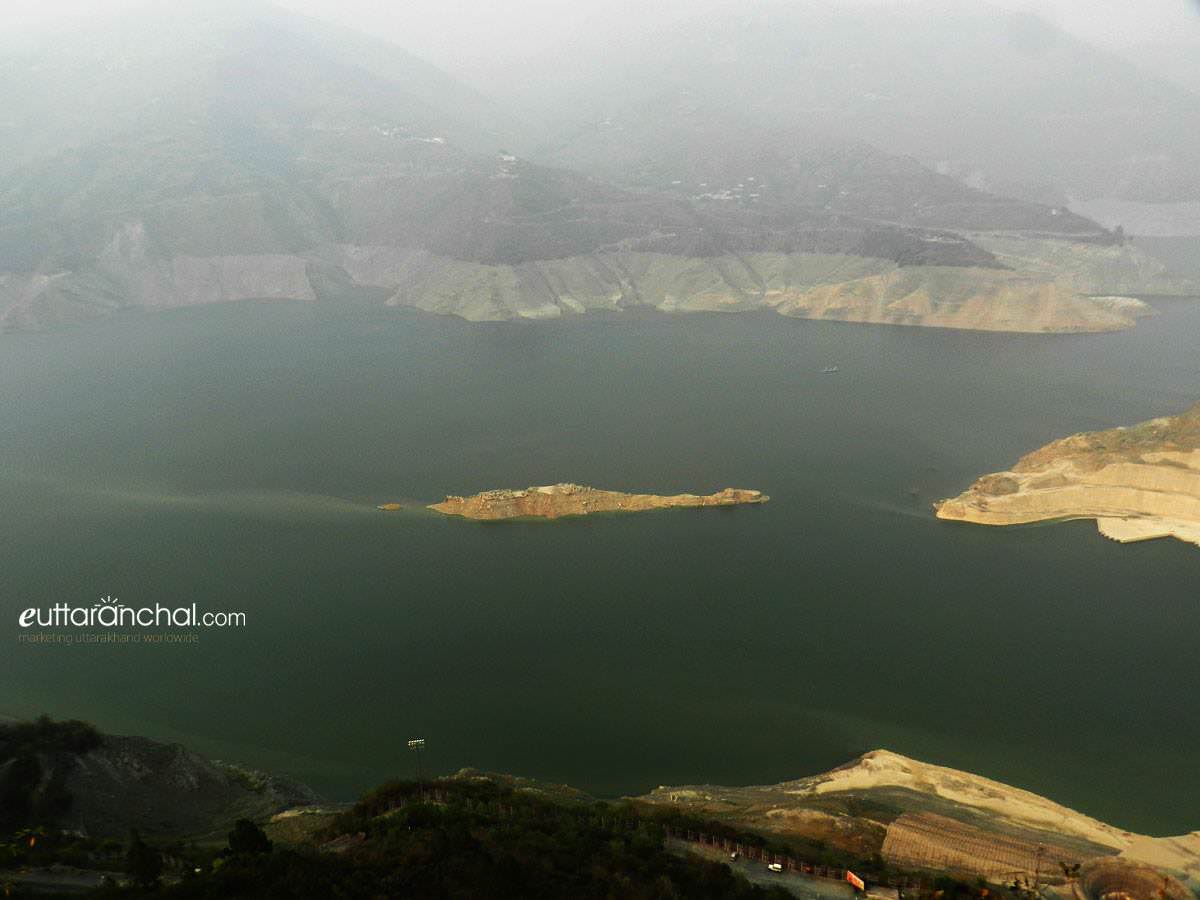 This harrowing repercussions of Tehri Dam should have been a great eye opener and things should have drastically improved both at policy and political level.Unfortunately, our lawmakers did not even learn from this great blunder.  To our dismay, the rhetoric's of "vikas"became a façade to pave way for indiscriminate construction of dams irrespective of change in government leadership. In the name of development, only industries and dam construction seemed charming perspective as if the state had nothing left to feed its people and economy. The government gave nod to every project and began overlooking the environmental and social impact assessment of these projects.There are a plethora of projects proposed let alone around 197 dams are proposed along the river Ganga and its tributaries. Recently the government have focused its attention on the Pancheswar Dam built on the confluence of Mahakali and Sarju rivers. This is supposed to displace more than 62 villagers and around 30, 000 people. This project has raised the question marks on rehabilitation. Shekhar Pathak, an academic who has researched the history of the western Himalayas for decadessaid that "Governments talk about relocating people but there is hardly any useful land left available in Uttarakhand".
Impact
The apathy toward the locals and ignorance to frequent alarms raised by environmental and social impact assessment reports is proving too costly for the state. The state has never been so vulnerable to a disaster like it has become now. The tunnelling of mountains has made our fragile ecosystem vulnerable to the catastrophes. The frequency of the disasters like flash floods, earthquakes and landslides have dramatically increased. As a consequence of this, there is a great loss to agriculture, man and property. The unprecedented filling of dam reservoirs in projects like Maneri-Bhali at Uttarkashi or Srinagar hydroelectric project or Vishnuprayag project has submerged fertile land which has resulted in amplified consequences in term of food security(Rana et al., 2007). Further dams have an impact on other issues like water contamination, aquatic life, sedimentation, deforestation and many remain unnoticed.
The tourism sector, which contributes a significant part of states' GDP might bear the brunt of excessive damming of rivers. The dams had exacerbated the devastation caused by the Kedarnath floods in 2013, in which over 5,000 people were reportedly killed.The loss forced locals to relocate to cities. If such incidents became a common phenomenon, then this might discourage tourist inflow which could put a serious dent in the economy of state.  It is not only the man which is being impacted, there has been a huge loss of the rich flora and fauna of the state which still remains unaccounted. The river is now turning into small drains due to excessive blockage leading to water scarcity at many villages especially during summers.
Future Prospects
Define development for Uttarakhand. Even though we became power surplus but still our villages had to wait decades for complete electrification.Is this development? Why are we building dams? Is it the only hope for our development? It is imperative now that the civil society especially our youthwho are most affected by this ill-conceived development become vocal and exercise their fundamental rights. They need to pressurize the government to revisit its current development narrative. The childish behaviour of our politicians cannot be tolerated. Shouting fancy slogans in television, radio or from the ramparts of Red Fort would not suffice. The government have to understand that their development strategy has faltered, proving detrimental and they immediately need a new recipe for states' development. Mere sloganeering of sabkasath, sabkavikasor palayanroko do not hold any meaning if the people themselves are ripped off their own resources.
To my understanding, the state needs on to work on 4 important domains: Education, Entrepreneurship, Regulation and Peoples' Participation. The state needs to first resurrect its educational institutions as only the local institutions have the advantage of being accustomed to the local geography. These institutions if properly assisted by the state, then they can conduct fruitful researches and produce talents that could unravel the potentials of state. Entrepreneurship has become a buzz word these days but our government is still oblivious to it. By adopting the concepts of ecological entrepreneurship, horticulture, non-timber forest products, food processing etc., the state can foster natural resource management and employment growth. Thirdly, there is a need to regulate the tourism, dam construction, human settlements and promote biodiversity restoration. We have lost enough forest to the commercialization and therefore regulation should help the Mother Nature to regain its lost beauty. Finally, the participation of people must not be limited to elections. In this era of internet connectivity, it is crucial for the government to conduct (if possible) pools on various aspects of policies to be framed, conduct grassroots studies (in association with local universities) and take peoples' opinion of kind of development they aspire.
Dams do generate hydropower but if we overdo such projects we will definitely foresee Devibhoomi turning Dambhoomi. Then Dams will not bring development but they will generate chaos in the ecosystem. If the state seeks to have a sustainable development, it should have a humanly approach i.e. learning and improving on the mistakes of the past. So that our tomorrow is shining bright and our next generation can proudly rejoice their existence on this gods own land.
Note: This article has been written by Rajender Bisht