Don't go materialist, go minimalist – Life Goals at the "Land of Gods"
What is life but a book which you can decorate with nostalgic moments of your life or waste it by sitting on a rocking armchair and counting every second that lamely passes by. If you have the zeal to conquer the summit of the glorious Himalayas, run as fast as you can and jump off the fences created by your own mind. Have a quick look at these surreal pictures taken at Uttarakhand which will entice you for an expedition to the road less travelled.
1) Build my own dreams: A tiny home at Dayara will be perfect for smouldering with you under the cluster of stars.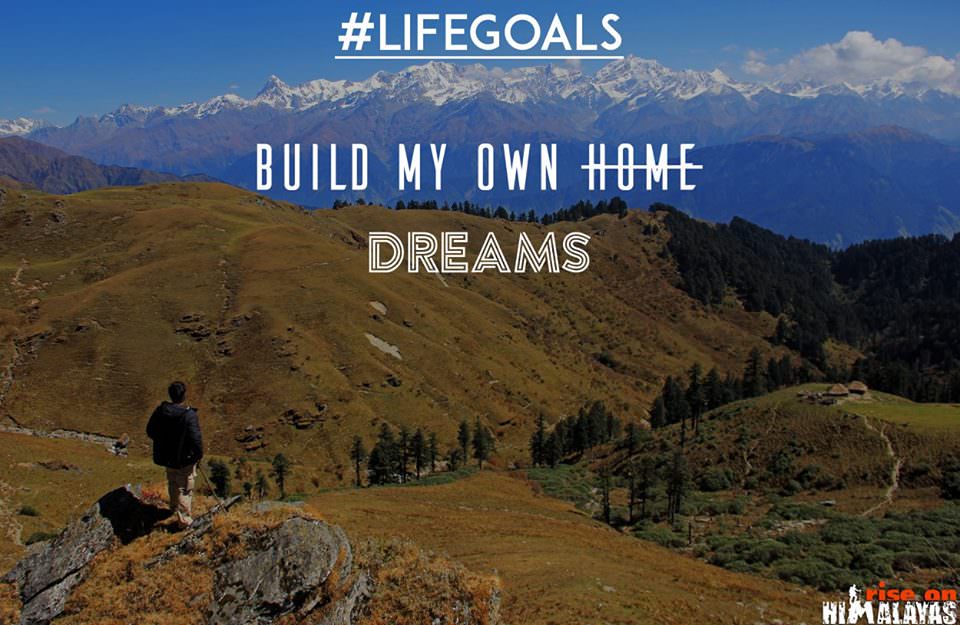 2) Find Happiness in the ordinary: Greedy people run after money my safe heaven lies in the lap of nature and the snowy peaks of Kedartal will be the icing on top.
3) Retire with precious memories: I am not sure whether my bank account will be as hefty as yours but surely my heart will be overloaded will precious memories of the past. Walking like a mountain goat on the rigid Kedar Bamak Glacier is my way of retiring.
4) Make my parents proud of how happy I am: At the end of the day my parents feel happy by gazing in amusement at that dimpled smile which manages to appear from the apples of my cheeks. What's better than taking them on a family trek to Har ki Dun Valley?
5) Travel the world alone: Who said walking alone is the worst thing ever? Have you ever tried walking barefoot on the meandering meadows or feeling the invigorating breeze blowing your worries at Tapovan.
6) Best make friends: Few good friends are better than many virtual friends. Every moment spent with them becomes memorable especially when you are on a quest to Dhanteras Thatch (Rupin Pass Trek).
7) Become an Influencer: Live a life which inspires others to fulfil their dreams even how unattainable it is. At Mukhba Valley, everything falls at peace and my mind becomes susceptible to great ideas.
Get connected to the Rise on Himalayas:
Official Website: www.riseonhimalayas.com or Click Here
Facebook Page: www.facebook.com/RiseonHimalayas or Click Here