An Inspiring Documentary that people of Uttarakhand must watch
Lifelines – A short video portrait from the Himalayas
About Lifelines
Uttarakhand State has one of the highest unemployment rates in India. People of Uttarakhand struggle everyday and to earn a better living they are leaving behind their villages and settling down in cities to do odd jobs. This documentary by Ross Harrison show the struggle of one such man who went back to Uttarakhand and is creating a difference. An Inspiring Documentary that people of Uttarakhand must watch.
Life of an ordinary villager Makar Singh Negi, who goes back to Uttarakhand to create a difference. It is the story of one man's struggles and hopes for himself and for his community. This movie have been shot in a village of Chamoli District, located at an altitude of 2500 mts with beautiful views of Himalayas and valleys.
About Shooting this film
This film comes out of long-term anthropological research conducted by Dr Jane Dyson since 2003. Jane first went to the village for her doctoral research, when she lived there for fifteen months. She has returned regularly ever since, including for a period of four months with her two children and her husband, Craig Jeffrey, with whom she now collaborates.
In March 2014, Jane took filmmaker Ross Harrison to the village for a couple of weeks. The short time frame, and the complications of shooting at high altitude (extreme weather, harsh light, short battery life in the intense cold etc) made for difficult work. Luckily they came away with the footage they had hoped for. They plan to produce a longer documentary for the village, as well as this film.
About Filmmakers
Dr Jane Dyson: is a Research Associate at the School of Geography and the Environment at the University of Oxford. Jane has worked in the village for over a decade. Her doctoral research in the village focused on children's work and is published in a book by Cambridge University Press titled  'Working Childhoods: Youth, Agency and the Environment in India'.
Ross Harrison: is a freelance filmmaker from Oxfordshire, England.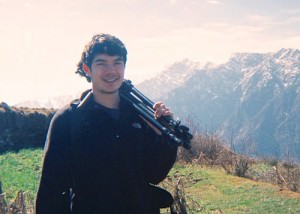 His work includes documentaries, online commercials, music videos, events coverage and independent projects. He provides video production services for charities, research institutions, businesses and individual clients, and is an experienced director, camera operator and editor. Film making has taken him to Tanzania, Sri Lanka, Malaysia and India.
Website: http://www.lifelinesfilm.com
Whole Community decided for revolution
Women working in Traditional Okhli
School Children – Morning Prayer
Ploughing fields
Lifelines Documentary
Makar Singh Negi
Lifelines – Family Picture
Lifelines – Family of four
Amazing Views from Village
If we all educated, our society will do well
If everyone comes together for an idea, then only we can be successful
A Smiling Village Girl