Resurrecting the lost Glory: Let's make Uttarakhand Great Again
Listening to some old melodious hits of Lalit Mohan Joshi, I was resting peacefully under the canopy of dense trees at my village. It was a much needed break from my monotonous city life. I was gazing at pines moving freely with the breeze as if they were dancing in joy. I was just in awe of my motherlands serenity. After a while, a thought came into my head and I turned to left side towards my friend Mohan, who himself was busy embracing the God's creation.
Why do people migrate to cities? Ask yourself!
I casually asked Mohan why people leave such a wonderful heaven just to be troubled in their polluted cities. What is not here that they find in cities? He looked at me and then turned his attention back to the clear sky and after a pause said, why don't you tell me?
Since last sixteen years, you have been living in the cities. You yourself visit your village once in three years. What makes you happy that you live in cities? I told him I was studying out there and I didn't have time to visit the village. Ah! He said then why don't you come back now. Your education is complete, isn't it the time to pay back to your roots?
His reply shook me. I was left completely dumbstruck. And for next few hours, there was a stark silence. I began pondering on his words. Those words pierced into my heart and I was drenched in shame and guilt. Mohan, who has a small grocery shop in the village is one of my childhood friend of old times when I studied in village Pathshala before I left for the city with my father. Mohan had a plausible argument. Why don't I come back now? What drags me away from my village?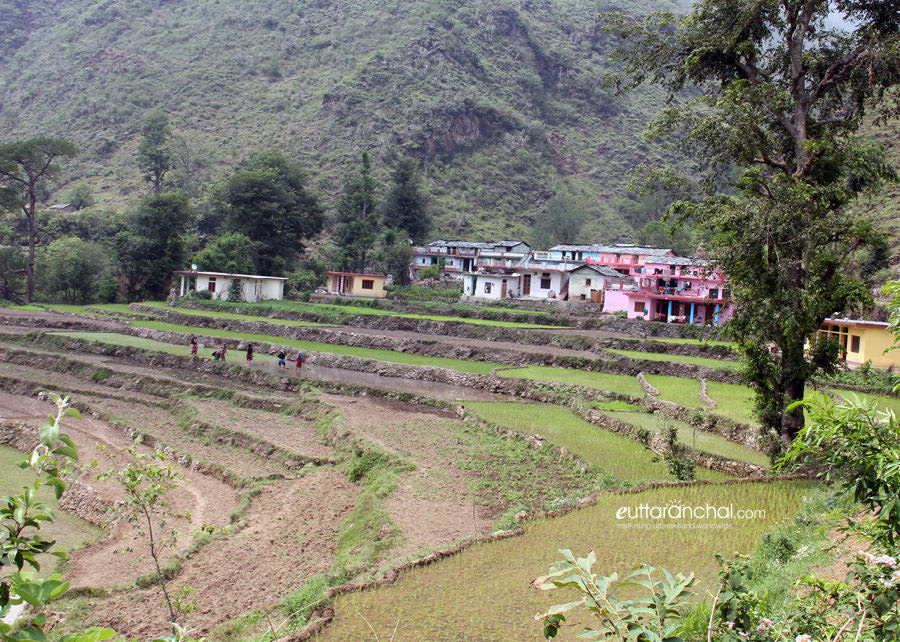 Being a developmental professional, my work takes me to different villages across the country. There I work with villagers to develop livelihood opportunities in their village itself. Since last one year, I have been successful in most of my works. But I have never worked in my village which needs me more than any of these villages. What drives me away from working in my own village? But above all the paramount question is what propels educated people like me to settle in their city space by ignoring the richness of their villages.
It is people like us who are busy bashing others for being xenophiles and aping western culture by disregarding their own diverse traditions. We show our sympathies and deep support against any atrocities committed to humanity. But ironically what about the grave injustice we are committing by not using our skill set to empower and uplift our villages. We people are flooding social network by posting the picturesque location of Himalayas to get thousands of likes and comments. We argue with others to prove whose village is more beautiful. It is like two people debating whose mother is more beautiful. But do we ever debate on unravelling potential of these picturesque places?
Sitting in our cozy corporate air conditioned cabinets it is ironic that we people lament our inability to strengthen our own region. With nothing left to blame, we often have the habit of criticizing the government for its inability to bring development and curb surge in migration. But are we forgetting that youth like us make a great state through our powerful vision? It is through educated human resource like us who make a place what it is. In this context, it is quite interesting to quote our Himalayan neighbors Himachal Pradesh and distant brother Sikkim. Both these states are known for their scenic beauties and well-balanced development. Migration in this region is way lesser than ours. And the only reason to back it is the support of their young generation who are determined to develop their region with their creative ideas. These states have witnessed the great development of local enterprises, which help in boosting the local economic development.
Can we sacrifice our comforts of city lives?
What scares us Uttarakhandi's away from our responsibilities? My friend Mohan says we people are so engrossed in our comforts of cities that we don't have the determination to sacrifice those comforts for our villages. Somewhat he is correct but not completely. There are few examples who have busted the stereotypes and have given back to society. Distinguish Individuals like Divya Rawat, who defied the existing belief that agriculture is not profitable by promoting large scale cultivation of Mushrooms. Recently she was awarded by Ministry of women and child care for her brilliant work. Or people like Devender Negi of Hapla block, Chamoli. Negi left his lucrative job of trade analyst and began cultivating his ancestral land. He began growing off-season vegetables through protected farming technique. For his perseverance and ingenuity, he was awarded in the recently concluded Vibrant Gujarat summit. There are few other crusaders who have returned back to their villages to serve their society but still, there is silence in most of the villages. These villages are longing for their people to return back.
It is quite easy to club few sophisticated words together but the real battles are always fought on the ground.
The great development professional Prof. Robert Chambers once said that "it is easier to write about something than to do it". For me, it is quite easy to club few sophisticated words together but the real battles are always fought on the ground. My intentions through this article are to nudge my highly credible and educated friends and remind them that we all must answer the questions of people like Mohan. Our hills are endowed with rich and diversity resources. It has a range of possibilities for those who aspire to set up their own enterprises. Besides, these days the ecosystem for entrepreneurs is really encouraging. Without enough of financial support, these entrepreneurs are not just making millions but they are also helping in providing employment to many people. Eco-tourism, agriculture, medicinal plants, wild products and cultural tourism are few of the promising areas. And for those who wish to make a bigger change, they can join various institutions in the state. Education is one such Institution which immediately requires educated youngsters to resurrect the abysmal state of education in the villages across the state. There are myriad possibilities if educated professionals put their minds into our own world.
The land of which bore eminent like Pandit Gobind Ballabh Pant, Chandi Prasad Bhatt, H. N. Bahuguna, and Gaura Devi is waiting for another great set of visionaries to turn the tide back in favour of Uttrakhand and its villages. These great revolutionaries can only rise if youngsters like us are resolute to achieve the mission of making Uttrakhand great again. A model state which can inspire billions across the globe. For that, we need collective efforts of educated youth.