My16PushupChallenge – A unique way to celebrate Diwali by the folks of Pithoragarh and Harela Society
Diwali weekend has almost come and everybody is busy in making their plans to celebrate this festive season. Probably some of you are planning for visiting to your village home to have a graceful time with your family or others who lives in cities have might be busy in cleaning their home, shopping for crackers, sweets, clothes and other stuffs for this Diwali. This auspicious festival brings us an unforgettable joy of happiness, love and memories. The glittering flames of Diyas and gleaming lights ambience becomes a delightful sight to amuse.
We all have our own way to celebrate this lovely festival with utmost grandeur but a very ecofriendly group of Pithoragarh 'Harela Society' decided to do something different on this Diwali. This group is famous for their eco-friendly unique and creative campaigns and challenges to aware folks about the importance of natural resources and clean environment in our daily lives. Other than Pithoragarh, Harela Society is also active in other regions of India like Delhi and Hyderabad.
So how Harela Society is celebrating this Diwali?
Being an eco-friendly group of like-minded people, Harela always supports something which helps a clean, green and healthy atmosphere around us. If you go through the facebook timeline of Harela Society members and their friends, you will be amazed by seeing that they all supporting a clean and cracker free Diwali by accepting and giving a unique challenge called #My16PushUpChallenge.
The aim behind #My16PushupChallenge and how to participate in it?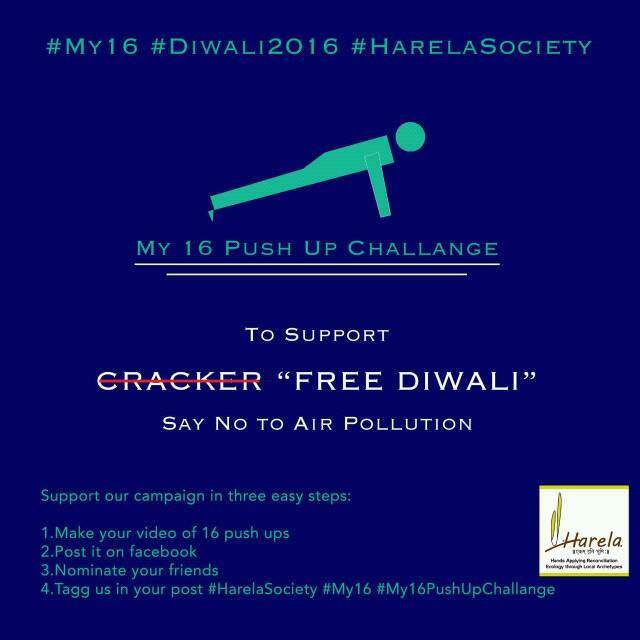 On a small conversation with a member of Harela Society, they told us that "it's a campaign for clean and fresh air. Every day we breathe the air, but we don't know the importance of clean air and how much valuable this resource is for us because it's a free of cost for all of us" So to spread the awareness about this concern, Harela Society started this campaign of "My16PushupChallenge", which intends to make all realize the value of Clean Air! Including this challenge they also appeals to take an oath for Cracker Free Diwali!
Steps for Participation:
1. Make a video of 16 pushups.
2. Post it to your facebook wall with #HarelaSocietyMy16PushupChallenge #My16 tags
3. Nominate your friends to dare for change!
Some random v
ideos of My16 pushup challenge