Of Migratory Birds
It'd already been 8 hours since we started on this road trip. But this wasn't any other trip; we were travelling to our hometown, nestled away in the lap of Himalayas. "A Perfect Holiday Destination!" , as was exclaimed by the umpteenth billboard that we crossed, advertising their hotels on the national highways, or 'homestay' as they'd like to call them. But no, this wasn't a vacation, this I was absolutely sure about. After all, I was going home. Home? Is it? I was going back to my roots, to where I come from, a very important part of my human existence which I am not unaware of, but somewhere deep in the recesses of my heart I knew I had neglected this, for the longest time. It was almost after 6 long years that we had undertaken this journey, ironic as it may sound, to explore a place I call my own, yet I cannot call my own, because I don't reside there.
This journey too, like all road trips, had two purposes: one that was known to me, the primary reason that brought us here, and the other that was left for me to discover. The former was a puja ceremony, mandatory to be attended by the family. By family, I mean, everybody from the clan. So it was almost like those family get-togethers that take place once in a blue moon at a decided place and date, usually on a holiday with all my cousins, my father's siblings, and his cousins, despite the fact that we all live in the same city. But this time it was different, it had a very definite purpose – a purpose so strong that it forced us to crane our necks from our 9 to 5 desk jobs and acknowledge that we have a regional identity too, apart from the national one. I've always thought about this – when we can't acknowledge our regional identity, our roots; how can we all strive towards a larger national identity? In the most secular sense, of course.
But, then was a purpose necessary to visit a place which I call my own? I have every right to call that place mine, except for the fact that we no longer stay there. Well, our ancestors did, and by all means and purposes, that place is my ancestral heritage. This is where it all began and this is definitely where it'll all end.
My "urban" sensibilities cautioned me every now and then before the departure, to take everything that I could along with me, because what could the countryside offer to you? It lacks even the basic amenities, to start with. Well, every village did, or have we underestimated it too much? Or, was it that we've been too engrossed with our "urban"' selves that we forgot that nature is the ultimate nurturer-provider?  As I had been too deeply absorbed with my thoughts, I hadn't realised we were almost there. And behold– the sight of the most exquisite natural scenery, which we manage to swoon over in DDLJ, but never cared to look for into our own country's nook and cranny.
"Welcome to Uttarakhand"
The sign-board glared in the sunlight, and here I was on my ancestral maati, the same place that I've always kept close to my heart, only because staying close to nature was only a luxury that one cannot afford despite living in the swankiest of pads in the poshest of colonies. We have already destroyed the minimal vegetation that there was. The Kumaon hills and the Garhwal hills together form a part of the Devbhoomi as it is popularly known. This was the moment I knew this trip had to be something more than just another visit to my place.
I saw my cousins spread all around the place, trying to explore their home. This was the time when my heart sank for the first time and I realised the other purpose of this trip was to explore the other side of my identity which completed me. If it hadn't been for the primary purpose, how else could I have my secondary purpose fulfilled, without which my identity is half-cooked and shallow? We are all guilty of running a rat race, without a finish line. This wasn't for the first time that I was visiting, but earlier, I had been too young to understand and comprehend life now as it were.
Having read innumerable number of articles about the rampant migration that has been taking place in Uttarakhand, we too are a part of this number. In search of better opportunities and livelihoods, we once flew off the nest as migratory birds, never to flutter back into its warmth and comfort. Or, was it that our eyes were too brightened to look back and acknowledge these simple joys of life, that were once ours, that we now crave for?
We were received with utmost joy, my Dadi, who also stays in the urban jungle with us but makes one mandatory trip to ghar each year, exclaimed, "So many years have elapsed since I last saw the house look so lively." It made my heart sink deeper and deeper. This ghar was growing on me.
The first thing that I realised was that the internet signals went even lower than the motivation I have for living – well, was it a bad thing? Would I really miss snapchatting the lush green meadows of my homeland, hashtagging anything that seemed exotic to me only because this existed beyond the reality of my urban plush concretized jungle? Perhaps not. It was about time that we look for what lies beyond the fore and four-walls of the tiny suburb that we live in.
Language. We humans, by default have the gift of being multi-lingual. I've always admired how my father spoke in fluency when it came to Kumaoni, our mother-tongue. I understood it, but never could speak fluently, much to my dismay, because the love that I nurture for languages and literature is greater than any that my heart can ever contain.
Tradition. Have I been oblivious to this tradition? I suppose not. But the intricate patterns of the regional art, Aipan, left me astounded. The rich red geru on the floor, the designs made on it with rice paste on the floor. I was always aware of this, but never acknowledged it. How many times have I tried this at the 'chaukhat' (threshold) and walls of our house in Delhi, during any tyohaar (festival) or puja?
Or, for that matter all the traditional Pahadi jewellery that I've seen my mother adorn, the 'nath', picchhoda, to name a few.
Food. I have always relished the bhatt-ki-churkani, a delicacy made with black soyabean and gram flour, the 'baal-mithai', a traditional sweet dish, almost like chocolate fudge topped with small white sugar balls, 'kheere ka raita' and a plethora of other Pahadi delicacies. I've always loved them but somehow this never tasted the same elsewhere as it did here.
Not that I've ever taken less pride in accepting my national or regional identity, but this time around I felt a major existential crisis, nothing less than that. A crisis so frightening that it had wounded my deeper understanding of self. Despite being familiar to this part of my identity, why was this so far away from my reach? It was always a part of me, yet I have to make efforts to keep it within me. I've had all this within me, yet how come I only acknowledge this now that I've come here? -Treating all of these as distant exotic luxuries that I'm indulging in once in a while.
Waking up every morning to crisp fresh air and a pleasant state of mind is something that I've craved for, craved for being close to nature. Walking around the river banks with my cousins, sitting down on the floor to eat sans spoon, watching the sunset-sunrise and gasping each time- what a wonderful  sight it is to behold!, roaming around searching for vegetation that could be growing around that we only get to see at the sabzi-mandi, trips to and fro the 'naula' (water trough) just to see how fast we could reach uphill with buckets full of water (to wash our cars with, of course!), catching fish in the clear river waters. The to-do list was endless, and so were our energies.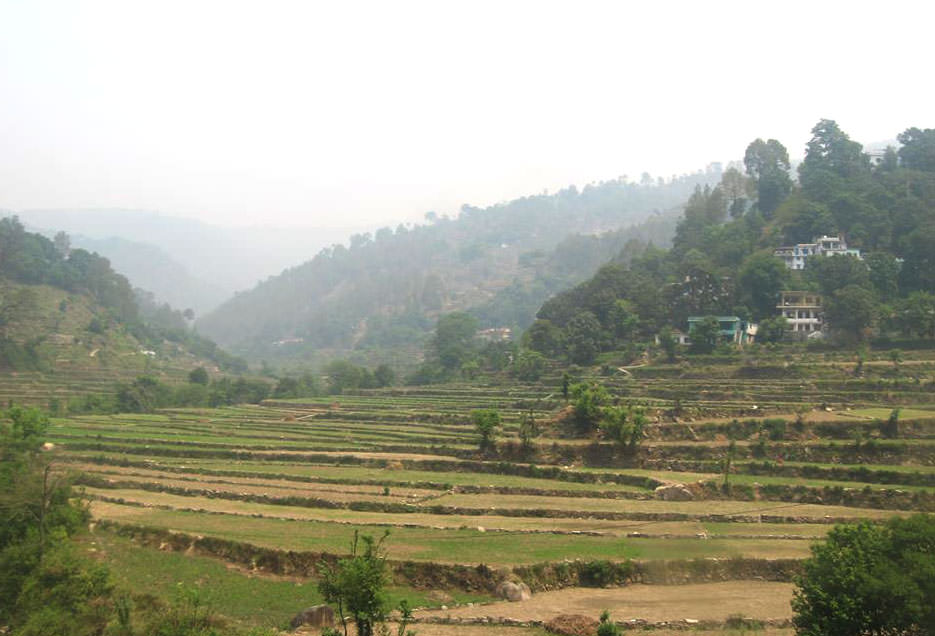 Why did it all seem so familiar and yet so exotic, activities that we engaged in did only because we needed a change? What if this was a daily routine of our lives?  Would we then have craved to go the sheher to create another identity for ourselves?
What about this identity, then? Should I be happier or should I lament that being closer to nature is something I could only afford in my vacations and slog the rest of the days away?  How long would this joy last, if this had to be my daily routine? And, why is it important to choose between the two, why can't a balance be made out, a consensus to include both in this vast kutumbh? Why is there a divide, two distinct demarcations each mocking at the shortcomings of the other? Co-existence has to happen.
Two "worlds" can co-exist. They should co-exist, they have been established in this society to complete each other and not to compete with each other. Isn't it time we break the barriers and challenge what constitutes the 'familiar' and what constitutes 'exotic' and amalgamate them?
With this thought I journey back to my other home for which I have equal gratitude not only because that place is helping me and others like me with a global identity, but also how I can and should learn to co-exist between the two 'worlds'. Oh! Yes, before I forget, I bought a number of Pahadi music CDs from the local market and boxes full of baal-mithaai, for until the next time that I'll be back. And I'll be back, sooner.