Trek the Himalayas – Tungnath Temple
The Himalayas are calling and I must go. The Himalayas are the beginning and end of all natural scenery for me. I decided to go on a small trek in mountains, but could not compromise with the beauty. Hence finalized to go Tungnath again in December end and trek the Himalayas which I did last year also.
Tungnath temple is world's highest Lord Shiva temple at an altitude of 12,073 ft from sea level. It is believed to be 5000 years old from the time of Mahabharata and comes third in a pecking order of Panch Kedar. Read the complete story from my earlier post.
Day 1 – Journey from Rishikesh to Chopta
The first step to reach Tungnath is to choose your transport wisely. We reached Rishikesh by bus early morning and had to wait for our cab by chasing chilling breeze. That wait itself gave us an idea of how cold its gonna be there in Chopta and Tungnath. Moreover, it's not going to be easy to trek the Himalayas. By 6:30 AM our cab arrived and we started for Chopta. The cab driver Bablu was a well-experienced guy to drive in hills. He holds driving experience of more than 20 years and has driven big commercial vehicles even trucks. Not only this but also he had great knowledge of all the towns, rivers, peaks and hidden stories behind them.
It was 8:30, we took a halt at small-town Devprayag. This is the place where two sacred rivers Bhagirathi and Alaknanda meet and is known as Ganga after this point. This town is the seat of Priests from Badrinath Dham. People take a holy dip at the confluence, but we didn't even think of as it was too cold. Alaknanda looked very calm and was flowing silently. Whereas the Bhagirathi had its own flow with a lot of rapids.
After driving for 3 more hours, we reached Rudraprayag which is the confluence of Alaknanda and Mandakini. From this point, we had to be together with Mandakini river going ahead. This is the longest route in India where you will be driving along with the river as told by the driver.
As we moved towards Ukhimath, we experienced many breathtaking scenes of the river with the Himalayas my love. We reached Dugalbitha (6 km from Chopta) at 3 PM where I booked accommodation. We immediately ordered Tea and Maggi, which gives immense pleasure when in mountains. Then we decided to go for a short hike and gaze at Himalayan peaks which looked magical at the time of sunset.
The night was icy cold and we layered with sweaters, jackets and got inside blankets. This is how the first day ended. We slept early with excitement and enthusiasm to trek the Himalayas next morning.
Day 2: Himalaya Trekking to reach Tungnath
I woke up, I smiled because I could see Tungnath and Chandrashila peak from my window and I call it the perfect morning.
By 8, we got ready, packed bag and stepped out to leave for Chopta from where the trek begins. It felt like driving on the hidden road to heaven crossing lush green valley loaded with fresh snow.
We started our trek by ringing the bell at the entrance after taking the name of Lord Shiva. There is a small registration counter near entrance charging Rs 150 per person which is mandatory. Initially, we faced the breathing problem and our body was shivering but the soul was determined to reach on top. The total length of the trek is only 4.5 km but is worth and rewarding.
The proper paved path is made, so you need not to, worry for the trail. But remember this can be slippery when the snow melts. After seeing continuous patches of ice, we took out our spikes and fixed with trekking shoes. This saved us from trouble from being slipped throughout the day.
We trekked the Himalayas for around 1 hour and got indulged with the immense beauty of the place. Within no time we were above all the mountains and by the sun was out. I extended my arms looking at the sun and felt like first light of the day has kissed my face. Standing on sheets of snow, surrounded by the giant Himalayas and covered with a quilt of circling clouds is a bliss. We were gazing at the countless layers of mountains and did not talk with each other for some time. After that, Satish thanked me and said he has never seen such kind of breathtaking view.
Arriving at Tungnath temple
I got the first glimpse of Tungnath temple covered with snow, and above that clouds magnified the view. This is the beautiful thing one can ever witness. We attempted many off-track treks, but nothing compared with the last stretch to reach the temple. We had to pull out legs from snow-covered till calves and it became very difficult. But its beautiful feeling to reach on top after putting so many efforts.
We reached the world's highest Shiva temple and bowed down. It was an overwhelming moment looking at the temple, great mountains, and mesmerizing view. One can feel the immense peace and positive vibes around this place. Like every other temple, this also has Nandi statue outside guarding the temple. Although it was closed, that time in my mind I had the story of Panch Kedar that how Lord Shiva appeared here in form of a hand. Such kind of places is for spiritual souls above than religious values. Its the place one can feel how insignificant we are in front of nature and a massive world.
While going to Tungnath, plan it accordingly so that you don't miss the beautiful sunset which happens on the right side when you come down. The sky was painted in orange and last rays were falling on snow-clad mountains. What a Wow!
Time for Celebrations!
After coming to the hotel, the feeling of accomplishment was within us. Everyone was happy after a refreshing journey of mind and body. The hotel owner Dinesh Ji arranged bonfire for us and within no time everyone gathered, played music, guitar, and Dholak. Few of them did trekking for the first time. At last we all shared experience of Himalaya trekking.
We had a simple and delicious dinner of Dal, Rice, Roti, and Sabzi. Following that, we came out for the walk on road under billions of stars who were playing hide and seek behind clouds. And around 11 PM, we slept after late night talks of the trek.
Quick tips
Carry enough water bottles and eatables as there will be only 1 opened shop all the way.
Wear good trekking shoes along with snow spikes. It will really help a lot to get a grip. Wearing shoe cover is also recommended as it will protect shoes from letting in the snow.
You can take stick and rubber boots on rent from Chopta.
Do not litter on the way. Carry wrappers or bottles and dispose of them in Chopta.
Start trek as early as possible in the morning to witness all shades of nature until sunset.
How to reach 
Reach from Delhi to Rishikesh by Bus, Train or Cab.
Rishikesh to Chopta distance is 220 km and there is no direct transport. So, you can hire a direct taxi till that place. Or, go by bus to Ukhimath and hire a taxi from there itself. Ukhimath is only 40 km from Chopta.
Bus frequency from Rishikesh to Ukhimath is very low, so plan the trip wisely. I would recommend hiring a direct taxi to Chopta.
Stay in Dugalbhitta or Chopta and trek the Himalayas next morning to visit Tungnath and Chandrashilla.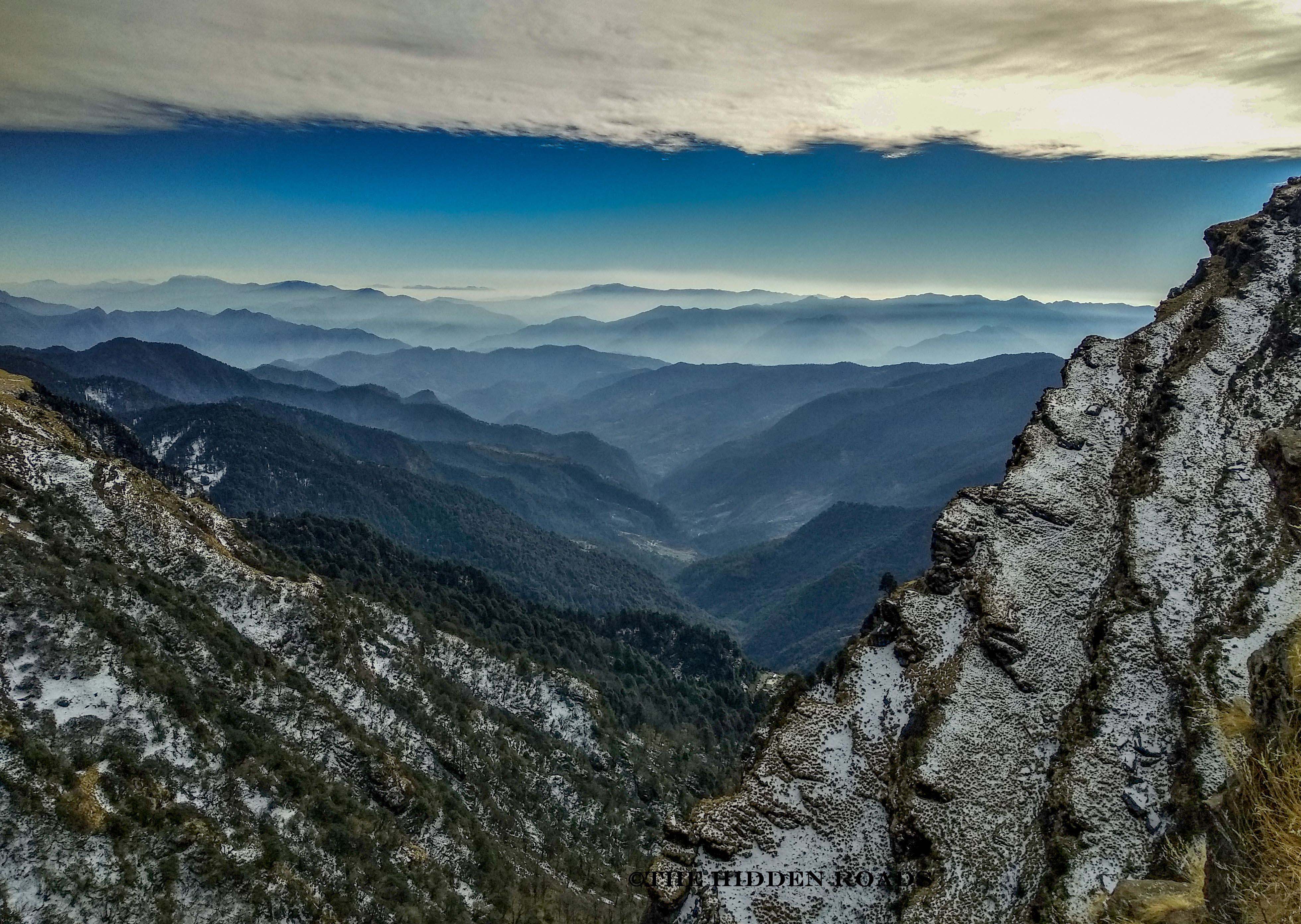 Tungnath is one of the most beautiful adventure treks of Garhwal region. I highly recommend this to everyone. I would love to hear from you on this post. Write below in comments or drop me a message.
Stay fit and happy traveling!
Travelogue by: Shruti Pradhan, follow more at  https://thehiddenroads.com
For Kedarnath Travelogue check: Journey to Kedarnath Temple