Uttarakhand's 6 Most Dangerous Roads To Make Your Heart Skip A Beat.
"Savdhani Hati, Durghatna Ghati", this safety slogan must have definitely grabbed your senses during road journeys, but the actual need for implementation of this slogan can be felt when you are journeying on terribly dangerous roads. Undoubtedly, Uttarakhand, being a hilly state, cannot remain behind in laying down its fair share of such spine-chilling roads.
Facts: According to, The New Indian Express' report, "the statistics present a grim picture. In the first eight months of 2016, there were more than a dozen deadly road mishaps in the hills of Uttarakhand. In all, there were 1075 road accidents in the first eight months of 2016 in which 641 deaths took place and over 1,000 injuries. In 2015, there were 955 accidents in which 584 persons died and several hundred injured, most of them permanently disabled."
So, let's have a look at some dodgy and risky hilly roads, plying on which might make your heart skip a beat.
1. Dharchula To Dugtu- Road to Darma Valley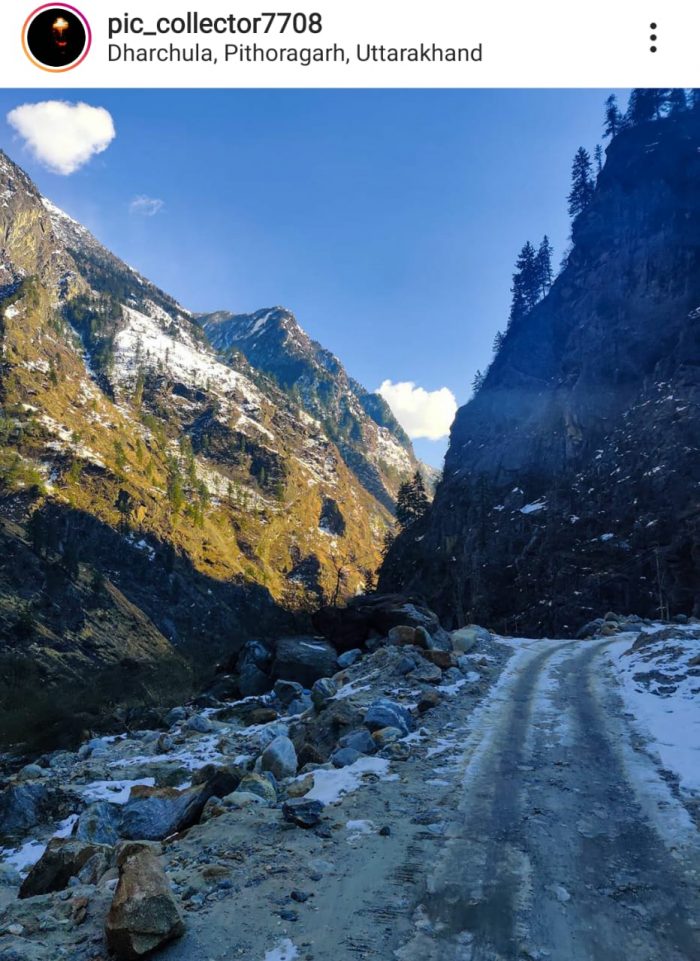 The petrifying route begins from Dharchula (town in Pithoragarh district) and goes till Dantu village, crossing various villages in between, such as Tawaghat – Sobla – Dar – Sela – Baling and Duktu. Sobla marks the entry point of Darma Valley. There's a kachha road which connects Dugtu/Dantu and other villages further ahead in the valley which was earlier a trek route for trekkers heading to Panchachuli peaks and its basecamp.
Darma, undeniably is a stunning valley, but offers extremely harsh weather conditions, roads to reach Darma are tremendously scary and too narrow. You will encounter stones and gravel in large amount on your way. The waterfalls on the path challenge further, with continuous flow of water onto these roads, one has to be cautious enough while crossing it. This doesn't end here, there is 24*7 fear of falling rocks and boulders on roads, as it is a landslide prone area.
It is recommended that during monsoons this road must be avoided and only experienced driver must take on such roads, because in a fraction of second one can meet with an accident.
2. Lambagad (Joshimath-Badrinath highway)- Road of Landslides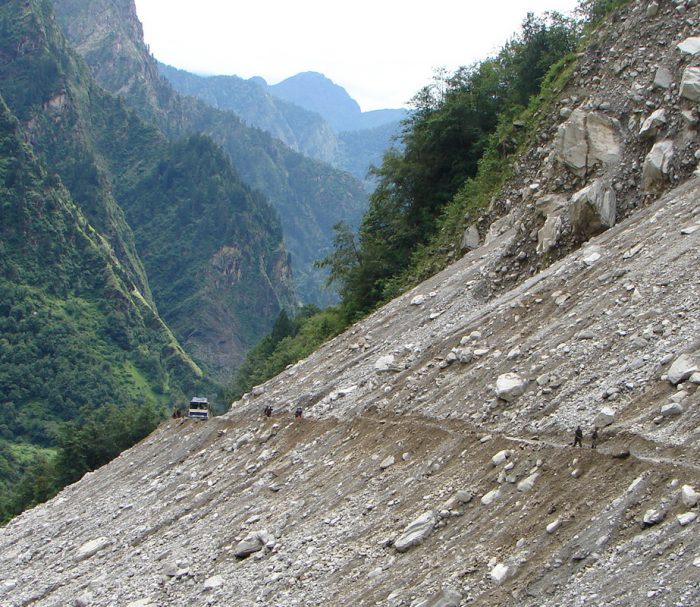 Roads of Lambagad on Joshimath-Badrinath highway are treacherous, as it is highly mudslide prone area which has actually taken the lives of hundreds of passengers travelling to Badrinath. Every monsoon these roads witness blockage due to large boulders falling just over the highway, stranding thousands of pilgrims visiting the Char Dham shrine.
Moreover, gravel and narrow path is another challenge for the driver and the area's unfavourable weather conditions make it more. So before plying on this road stay extra cautious and safe.
3. Jauljibhi to Munsiyari – road of waterfalls crossing
This 66.4km road to Munsiyari, from Jauljibhi via Madkot is another hair-raising experience for travellers, which is less toured and almost a barren road. Even though it offers majestic scenic beauty but this journey isn't quite easy as on the way you will encounter numerous waterfalls, falling directly on the narrow roads hampering your journey. This route, under the mighty Himalaya range and alongside river Kali and Gauri, is a most adventurous and is full of thrilling surprises.
Additionally, the stones and gravel on such damaged roads baits effectively to the accidents and to make it scarier, no medicinal facility is there in the vicinity. Therefore, it is recommended that before plying onto such roads, proper first aid kit is a pre–requisite.
4. Thal To Munsiyari Road– A roller coaster ride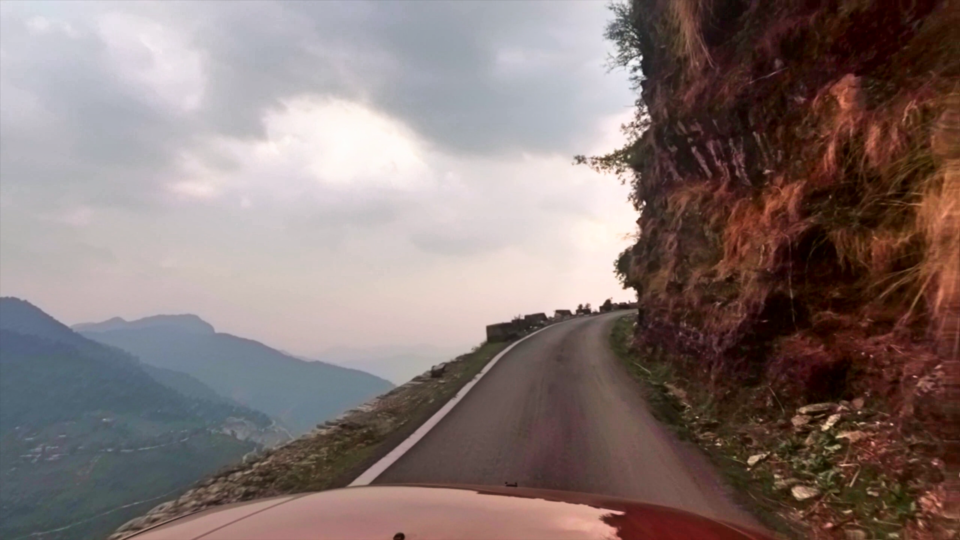 Munsiyari, situated amidst Panchachuli Himalayan range is not behind in covering the distance with some blood-curdling narrow and dangerous hilly roads. As we rise up in the Kumaon ranges, from Thal via Girgaon- Birthi and Kalamuni, path starts to narrow down and becomes dangerous, most of the times without any safety fence. There is a steep fall down the mountain and driving on it keeps you on the edge of your seat. Not only this the long patches of roads are broken in between, making it more uneasy.
Misjudgement of an inch or two could result in a car plunging down into the gorge with little or no hope of survival. And the topography is such that extraction of a wreckage can take weeks.
I hope now, you will take care while driving onto these roads.
5. Road From Uttarkashi To Gangotri– Not So Easy One
Gangotri being one among the Char Dhams of Uttarakhand, is much revered and go to place, the road distance between Uttarkashi to Gangotri is 99 km, via Bhatwari – Gangnani and Harsil and is continuously parallel with the flow of Bhagirathi river. This distance is not so easy to pass through without any prior experience, as you will encounter roads which are not well maintained and are extremely narrow along with sharp curves. Even though risky, Gangotri' Lanka Chatti also accommodates Asia's highest bridge over the Jahnavi River at an elevation of 2789 m above the sea level.
Often, drivers ferrying tourists make haste on these roads, trying to complete a 10-day package in eight days, resulting in such ghastly mishaps. Then there are those who are drunk or drive rashly. Overloading is another problem and in the past, landslides here have played a major role in facilitating several accidents.
6. Niti Valley Road- from Joshimath via Malari
Niti village is located at 88 km from Joshimath, and the road to reach till there is tremendously dangerous, as these roads easily give in during harsh weather conditions which this place bequeaths.
Niti is the last village and outpost in Indo-Tibetan border in Chamoli district. At a height of 3600 mtrs, Niti is situated near southern Tibetan border. The Niti Pass located at 5800 metres connects India with Tibet. This route is so scary, with uncultivated roads and extremely narrow passage.
PS: this article's intention is not to prevent you from plying onto these roads but to make you extra cautious and also to improve your general knowledge.