'Village Tourism'- Visit These 10 Exotic Locations.
When you see your favourite Vlogger on YouTube exploring several exotic places in Devbhoomi Uttarakhand, there is hardly any doubt that you wouldn't want to walk on their paths.
Moreover, over the past few years, a number of celebrities from Bollywood and cricket like Deepika Padukon, Anushka and Virat, Sachin Tendulkar, MS Dhoni, etc. have given their oft-preferred global destinations a miss, choosing the state's peaceful hill towns for a quick Himalayan escapade.  
Wouldn't you love to keep yourself in the trend, and make a visit to some picturesque and serene villages that are perfect for escaping from the rat race of the modern world.
I have brought you the list of 10 beautiful villages, you wont regret if you visit them- of this I take 100 % Guarantee.  
Sankri Range
The Sankri Village in Uttarakhand is a route to the paradise of Himalayas for every trekker. It is not just a scenic hamlet situated in Uttarkashi district but also the last road head to the Govind Balabh Pant Wildlife Sanctuary. The village offers ecstatic views of the Himalayan skyline and a plethora of mountain peaks, gazing at you from a distance.
To do in Sankri- Trek to , Kedarkantha , Har Ki Dun Trek , Bali Pass Trek, Ruinsara Tal Trek, and Adventure activities like, Bird Watching, Camping, Village Tourism, Zipline activity and for food and accommodation you must try Meraki Homestay in Sankri.
Sari Village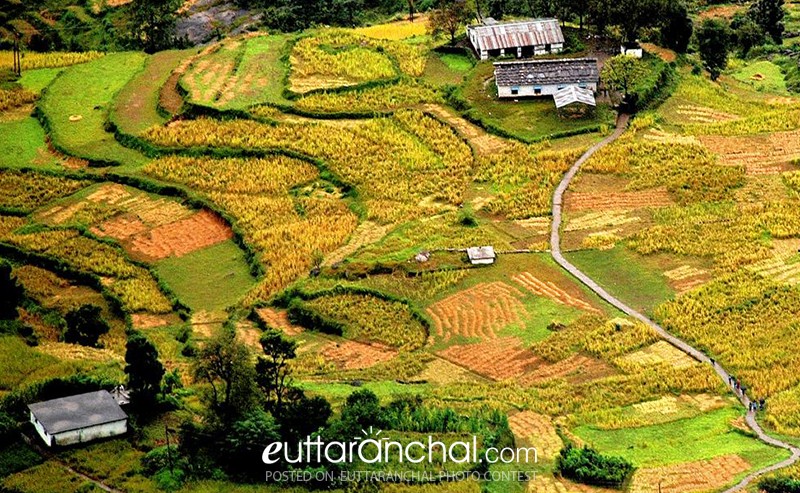 Sari village is the base camp for a very beautiful lake Deorial Tal which is only 2.5 kilometers away from here. It takes only one hour from Sari to reach Chopta by road. When all the hotels in Chopta are closed due to snowfall, Sari acts as a base camp. One can easily find few lodges or homestays in Sari.
To do in Sari-  Trek to Deoriatal and visit Chopta, further trek to Tungnath and Chandrashila, also for Bird watching it is a remarkable destination and don't miss the village tourism.
Khirsu
Khirsu, enveloped by pines, tall oaks and old deodar trees, is perched at an elevation of 1,900 meters above sea level. It offers a 180-degree view of the sun-kissed Himalayas and is famous for its apple orchards. It is one of the best places to head to, if you are looking for a picturesque destination to spend your holidays in the midst of the Himalayas. 
To do in Khirsu– Visit Ghandiyal Devta temple, Jwalpa Devi temple, Deval Garh, Dhari Devi temple, and Ulka Garhi, do some Nature Walks and Bird Watching, and Village Tourism .
Mana Village
Situated on the banks of River Saraswati, Mana, last Indian village from the border of India and Tibet is located in the district of Chamoli. It's been designated as a "Tourism Village" by the Uttarakhand government. Mana village is one of best tourist attraction nearby to Badrinath.
To do in Mana- View the mesmerizing Neelkanth peak, visit Tapt Kund, Mata Murti Temple, Vasudhara, Bheem Pul , and Vyas Gufa. You can also trek to Mana to Vasudhara, Mana to Mana Pass, Mana to Satopanth and Mana to Charanpaduka.
Malari Village
Malari is a small village near the Indo-Tibetan border near Joshimath in Chamoli district. Located in Dhauli Ganga valley at a height of 3048 meters, Malari village is encircled by steep snow-covered mountains. Inhabitants of Malari village moves to the lower part of Himalayas during winters due to heavy snowfall.
To do in Malari- One can get a glimpse of the majestic Himalayan peak of Dronagiri. Niti village can also be visited. Village Tourism is a best thing do to as one can learn about its rustic way of life, customs and beliefs. The village is inhabited by Indo-Mongolian Bhotia tribes. Hiking is another, to do activity, in villages, in and around Malari.
Jeolikot
Jeolikot is an untouched jewel in the Nainital district which is also known as the gateway to Naini Lake. Alongside NH87, Jeolikot is well connected by a motorable road and is located 17kms before Nainital. This is an ideal place for those who are interested in floriculture and butterfly catching. The climate at Jeolikot is pleasant all around the year
To do in Jeolikot- Bird-watching is the main activity, with over 200 aviary species, Jeolikot is nothing but a paradise for the bird enthusiasts. Butterfly-watching attracts tourists from all over and Horticulture is another attraction as the beautiful flowers maintained by Horticulture Apartment bloom in the spring season.
Kanakchauri
Kanakchauri is a small village located on the Rudraprayag-Pokhri road, just 40 kms from Rudraprayag. Kanakchauri is famous as the starting point of the beautiful trek to Kartik Swami Temple. Kanakchauri offers you the beautiful view of some snow-capped Himalayan peaks.
To do in Kanakchauri- See snow-capped Himalayan ranges and amazing sunset and sunrise and trek to Kartik Swami Temple and Village Tourism . There is one newly built bamboo hut resort: Mayadeep Holiday Home in Kanak Chauri village, which offers comfortable stay and delicious home made food to the tourists.
Martola Village
Martola is a picturesque place known for its scenic grandeur located about 10 kms from Almora. This place is surrounded by thick woodlands and well-manicured gardens whose beauty has tempted many foreigners to settle here. Martola is a one of the best places for a weekend getaway and is frequently visited by the people for picnicking amidst nature. This place can be accessible from Panuwanaula on foot.
To do in Martola- Martola is popular place for OffBeat, Village Tourism activities/ interests. 
Kalimat
Kalimat is a fairy tale hamlet located in the Hawalbag Tehsil of Almora district. This village comes under kalimat Panchayat. It is located about 5 km North of District Headquarters Almora and 201 km from Dehradun.
To do in Kalimat- Famous for Village Tourism, Kalimat offers various natural trails for walks and magnificent natural beauty.
Sitlakhet
If you are looking for a quaint holiday spot away from the hustle and bustle of the cities then Sitlakhet is the place for you. Adorned in the district of Almora, Sitlakhet is a lesser-known tourist destination located about 24 km from the Queen's Meadow 'Ranikhet'. Proudly sitting at an elevation of 1900 meters on the kaleidoscopic Syahi Devi hills, Sitlakhet is one of the best places to explore in the Kumaon Himalayas. From this off-beat destination, one can savour a panoramic view of Chaukhamba peaks.
To do in Sitlakhet- Sitlakhet is popular destination for following activities/ interests – Camping, Hill Station and Village Tourism.